Dear Friends,

We're thrilled to share all the exciting news about Friends of Angaza Nuru from the past year. It has been a year filled with tremendous growth and success, as we have grown from a ministry of Priest Lake Presbyterian Church to a full-fledged 501(c)(3).

Our partners in Bodoi have seen the community come together to celebrate accomplishments and offer each other support. From exciting new projects to support our goal of making Bodoi self sufficient, to our Journey to Kenya travel team making a return to Kenya this past June 2023, there has been no shortage of joy.

We are excited to provide you with the below Fall update which will be the first of our new quarterly newsletters, in which we'll share the exciting news about what is happening in Bodoi.

Thank you so much for being a part of our community and for your continued support. We look forward to sharing more stories of joy and success with you in the future.

All our Best,
The Board of Directors of Friends of Angaza Nuru
A note about nomenclature: Our new 501(c)(3) is called Friends of Angaza Nuru; this refers to the U.S.-based organization which raises funds and awareness to support the ministry in Kenya.  Angaza Nuru Bodoi refers to the Kenyan ministry and organization.
Journey to Kenya Travel Team 2023

This past June 2023, the 5-person Journey to Kenya travel team visited Kenya for the first time in 5 years. During the joyful two week trip, the team was able to strengthen our relationships with Angaza Nuru Bodoi, including an in-person meeting with the Kenyan board, which included a hope-filled discussion about the long-term mission and vision for Angaza Nuru.


On Saturday mornings, one can see hundreds of children wearing their bright yellow Angaza Nuru shirts walking and running down dirt roads to participate in the Saturday Feeding program. While in Bodoi, our team participated in two Saturday feeding days. An estimated 400 children came from all over the village to learn about God, play organized games with their friends and eat a nutritious meal. Our team even got a chance to play games with the children!

During the trip, the team also visited the Angaza Nuru school, and made site visits to local schools that many of our Angaza Nuru children attend.  Our team members were invited to speak, encouraging the students to stay in school, work hard for good grades, and to watch over their siblings.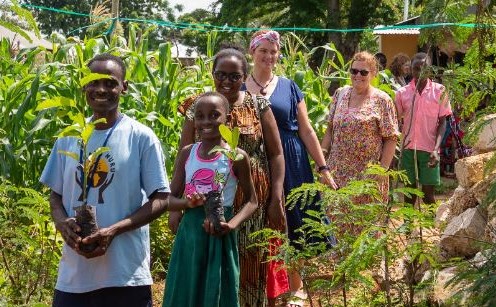 Each time we visit Bodoi, the team members visits homesteads in the village. This year, the team brought seedlings of mango, agave and pistachio nut trees. Many prayers were said over the small seedlings as they were planted, that they may sustain the homesteaders, either by eating the harvest of the trees or selling the fruit at the market for income. This is just one way in which we are working to develop self-sufficiency in Bodoi.There are too many amazing photos, videos and stories to share in this small space, so please visit our Facebook Page for much more news on our amazing trip to Kenya!
Bodoi Update

Logos Hope Field Trip  Thanks to a generous donation, our Director, Joseph Oyaro was able to take 180 children and 20 volunteers on a field trip to the Logos Hope, the world's largest floating bookfair, which was docked at the Mombasa port. The group was able to purchase books and meet people from around the region, and was the first and perhaps only opportunity for many of these students to ever board a ship. It was an extremely exciting experience for all, and broadened the horizons of these students! Joseph was even interviewed by a French TV channel! Video here.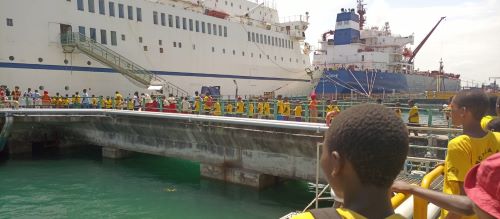 Visiting the ship!

Chicken Farm   Earlier this year Angaza Nuru Bodoi leased a plot of land on which to build a chicken farm. The goal of this farm is to enable self-sustainability in the village by producing eggs and chickens, both for consumption and to sell for a profit. The local Angaza Nuru team have recently benefited from trainings given by the poultry experts from Kenya Agricultural and Livestock Research Organization (KALRO). The KALRO poultry experts will continue to provide coaching and assistance for our Chicken Farm team going forward. We look forward to providing more updates on this exciting project!
A Note From Our Treasurer

I am so proud to announce that Friends of Angaza Nuru (FAN) was officially approved for 501(c)(3) status by the IRS this year. While donations to FAN have always been tax deductible, our new status means that as a donor, you may have additional options for giving if you so choose.

FAN is now registered with GuideStar (Candid), the database that companies and organizations use to approve donations to nonprofits. This means that you can now make a donation through a Donor Advised Fund or corporate matching gift program!  

If you are interested in learning more about giving via a corporate matching program or Donor Advised Fund, we would be happy to facilitate this process. Just reply to this email for more information.

We thank you for your continued support of the important work of our ministry!

Warm Regards,
Laura Rottmann Bradford
Treasurer
Scholarships

As our students ready for the new school term which will begin in January, here at FAN we are preparing for scholarship season. If you have never sponsored a child before, we invite you to join us in this rewarding program.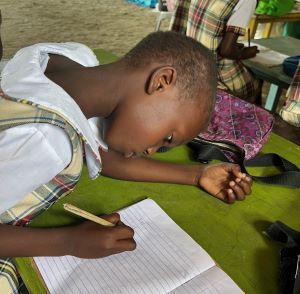 The cost is $75 per child per year; $60 covers school registration and fees, and $15 purchases a mandatory uniform.

If you'd like more information on how to sponsor a child's education, please reply to this email or call Director of Education Nancy Loudermilk at (615) 939-2717. 

Sponsorship packets for our current sponsors will be going out in November so please stay tuned for more info!  

Thank you for your continued support of our ministry!

 Donate Now    Email Us
Please follow us on social media! Facebook Desktop Facebook Mobile Instagram

www.friendsofangazanuru.org
11205 Lebanon Rd  Suite 370
Mount Juliet, TN 37122

Friends of Angaza Nuru Inc. is a tax-exempt organization under Section 501(c)(3) of the I.R.S.
---